The NFL Doesn't Want People To See The HELLISH Thing In The Middle Of This Photo… IT'S AWFUL
Several NFL stadiums are totally empty as of post kick-off as the National Anthem controversy has reached week seven. This is horrible for the NFL. They are going to need to start charging half price for their tickets cause they are in trouble. Check this out.
This is what the Hard Rock Stadium in Florida looks like. the New York Jets are playing the Miami Dolphins.
The Cleveland Browns played against the Tennessee Titans and there are so many empty seats.
It almost looks like a Hillary Clinton rally with how little people are there. Take a look at how weak the show out was as the Chicago Bears play the Carolina Panthers.
The Lucas Oil Stadium has pushed "tons" of stadium seats during the Indiana Colts Vs. Jacksonville Jaguars.
If the NFL thinks that Americans wouldn't stop watching games after they disrespected our troops, then they are thinking differently now. Holy crap.
According to Breitbart, there should have been a big crowd for the Jets versus New England, but no one showed up. The Texans, Atlanta and Baltimore also have loyal fans but no one showed up for their games either.
According to the Week, 60% of working class Trump voters now see the NFL in a bad light.
Too many bad teams, awful quarterback play making NFL games hard to watch
People are staying away from the NFL. Viewership is down and empty seats are up compared to the record ratings of a few years ago. It's hard to argue that fact.
Any camera angle that panned across the upper deck in any number of stadiums Sundays confirmed that fact. The issues with ratings are well-documented. It's become convenient to blame that phenomenon, at least in part, on the ongoing issues of player demonstrations but now, nearly a season-and-a-half since Colin Kaepernick first took a knee, I'm not buying it. There's some protesting going on, without a doubt, but it's fans protesting the product being put on the football field, I believe, moreso than any pronounced reaction to a handful of players displaying their Constitutional rights before kick-off.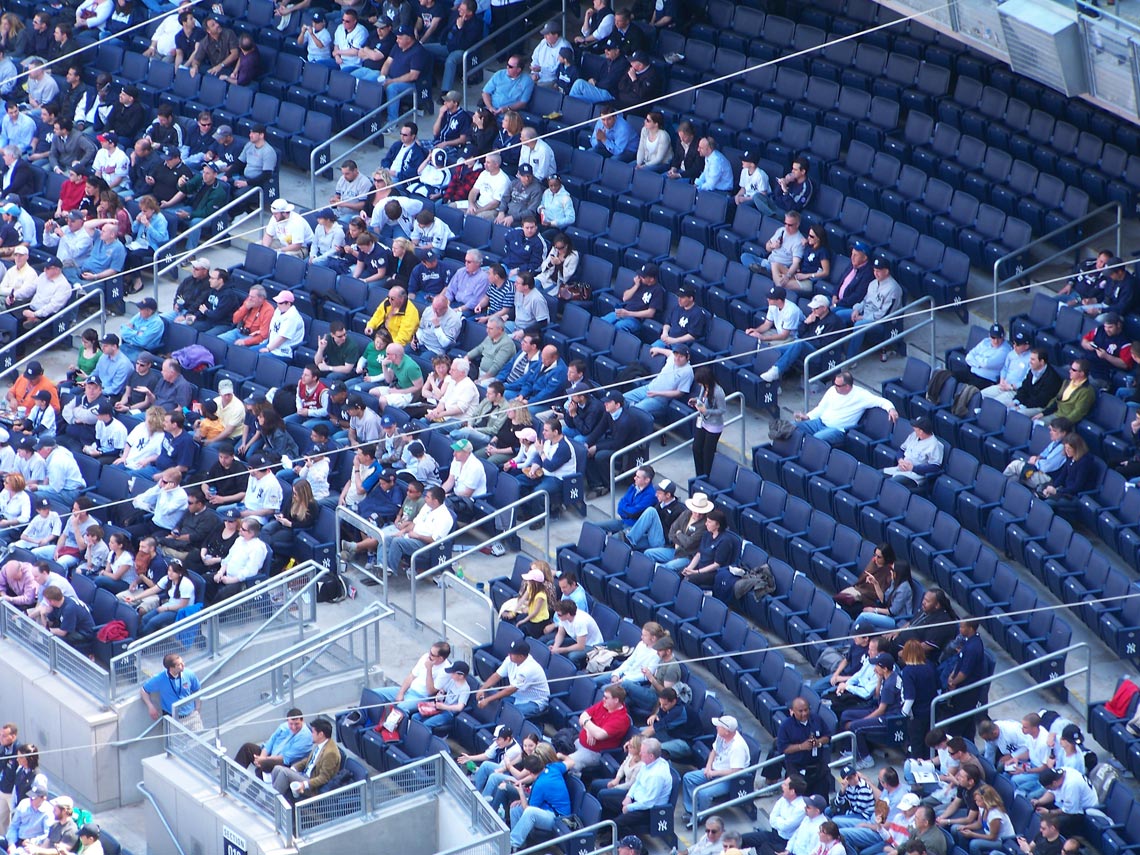 This downturn in the number of eyeballs watching closely every Sunday and Monday and Thursday is much more directly related, in my opinion, to the fact that the number of quarterbacks you would pay big bucks to see in a game with no rooting interest seems to be shrinking by the week. It's a by-product of the number of teams who fail to play anything close to attractive football, and who haven't found or developed a skill player who would garner a second look.
It's a factor of yet another weekend when injuries ravaged the already-depleted QB position, and America was treated to the likes of guys like Matt Moore, Drew Stanton, and Cody Kessler playing in games that count in the standings, to go with the likes of Brett Hundley and Case Keenum and Mitchell Trubisky and C.J. Beathard who have already been thrust into action due to injury or the ineffectiveness of others.
The NFL has altered the rules and tilted the field for the offense over the past few decades with rule changes and points of emphasis. There's nothing more they can do to subsidize scoring. Problem is, the way some of these have been constructed and coached, it really doesn't matter. Far too many teams and far too many quarterbacks are simply too hard to watch – or at least watch regularly – and it says here that has more to do with the sustained ratings dip than people boycotting because of anthem demonstrations or anything else.
Peyton Manning and Tony Romo are retired and not coming back. Andrew Luck and Aaron Rodgers won't be throwing a football in a game that matters for a long time.
Besides the brilliance of Deshaun Watson, this rookie class isn't going to create buzz (Trubisky has plenty of promise, but he and that Bears offense are raw and DeShone Kizer has now somehow managed to lose his job to Kevin Hogan and Kessler in successive weeks). Recent NFL MVPs Cam Newton and Matt Ryan, entering play Sunday night, had combined for 15 touchdowns and 16 interceptions in 12 total games.
If you have spent considerable time watching Eli Manning, Philip Rivers or Ben Roethlisberger, you have seen quarterbacks appearing to be in decline, who look every bit the part of 36 years old. Carson Palmer's demise looks even considerably more hastened and now will be out with a while with a broken left arm. Joe Flaccowon a Super Bowl MVP not that long ago, but now commands a complete failure of an offense that gets booed lustily at home.
If you've spent much time watching Jameis Winston or Marcus Mariota, you've seen recent top overall picks who have, at best, plateaued (I won't say regressed, yet), but certainly neither has taken off (and Derek Carr only finally looked like himself on Thursday night). Even the magic of Dak Prescott from a year ago has been largely muted with more talk about the anti-protest comments of the Cowboys owner, or the on-again-off again suspension of Zeke Elliott than any hype about this year's version of their offense.
Guys like Brock Osweiler and Mike Glennon got paid huge money to be starters in free agency and neither one could hold his job for anything close to a full season despite having no other proven option on the roster. Young guys like Trevor Siemianand Blake Bortles start every week because when the Broncos and Jaguars win, it's because of their defense, but there are no shortage of young place holders who will be making way for someone else sooner rather than later.
It's not a pretty picture. Thank goodness Tom Brady and Drew Brees are still getting it done at, or pushing, 40-years old. Thank goodness for Watson, and for Jared Goffand Carson Wentz developing in fine fashion. Amen for Alex Smith cutting loose with big throws, and for Russell Wilson managing to perform at such a high level despite that offensive line (not that Seattle's offense is easy to digest, either).
In the 1 p.m. ET window alone, Sunday, Arizona and Indianapolis were shut out, the Browns and Titans conspired to play a game with no touchdowns scored, Baltimore scored its first offensive touchdown in garbage time as time literally expired and the Panthers were held without an offensive touchdown for the second time this season; they scored seven TDs in consecutive weeks against the Patriots and Lions but have just five offensive TDs, total, in their other five games.
Changing some scheduling trends, and getting some better games on early might be a smart idea. Creating an early buzz on social media, getting viewers engaged earlier, cultivating an audience through the day, FWIW.
Seems like that is always the window most compromised by the need to fill other slots.
Regardless of all the reasons, there are too few quarterbacks who look the part playing far too many games, which is a major factor why so many of these teams are easier to ignore than to follow closely. And yet Kaepernick can't get a phone call for a workout, with no strings attached. Not up to this point, and, I figure, not even this week with the Cardinals and Dolphins and others now in need of an additional arm or two with injuries again cropping up. Got it. Meritocracy. Makes perfect sense. Hope someone proves me wrong.
So, yeah, I suppose you could say that football has a protest problem (even when like 12 out of 1700 players are doing something other than standing for the anthem).
It's just much more likely that it's from people protesting the ability of most of these quarterbacks to change the game – for the better – rather than manage it, at best. It's protesting the quality of offensive play, which if anything seems to be on the decline this season.