POLL – CLICK TO VOTE: Should New York Terrorist Be Sentenced To Death Or Lifetime In Prison?
President Donald Trump has responded to the terror attack in New York City, saying that the attack appears to have come from a "sick and deranged" person.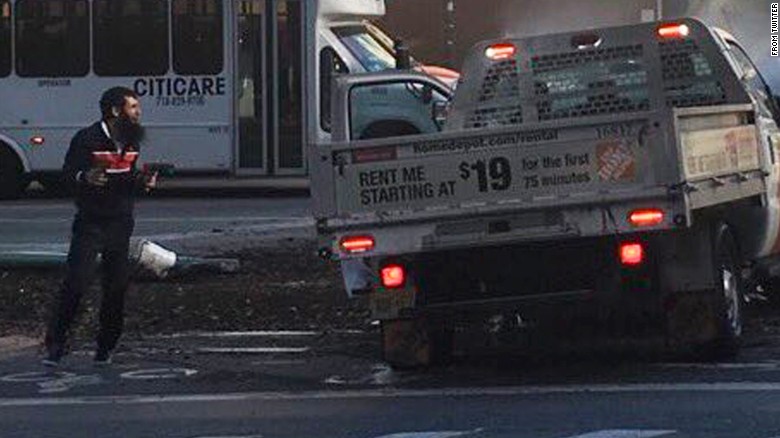 "In NYC, looks like another attack by a very sick and deranged person," Mr Trump tweeted. "Law enforcement is following this closely. NOT IN THE U.S.A.!"
The President was joined by his wife in condemning the attacks and expressing grief for the victims of the attack. At least eight people have been reported dead after a rented Home Depot truck smashed through a bike lane in lower Manhattan.
"My heart breaks for #NYC today," Ms Trump wrote on Twitter. "Thoughts & prayers as we monitor the situation."
At least eight people were killed after the truck smashed through the bike lane, and at least a dozen more were injured, according to New York City Mayor Bill DeBlasio, who addressed reporter during a press conference following the violence.
"It is a very painful day in our city," Mr DeBlasio said. "Horrible tragedy on the west side."
Mr DeBlasio and law enforcement officials said that they were treating the incident as a terrorist attack, and said that the suspect was detained by a police officer on duty after the truck smashed into a school bus near Chambers Street. They did not immediately release the name of the suspect.
Officials did, however, indicate that the suspect was a 29-year-old man, and said that he had exited the truck armed with a pellet gun and a paintball gun.
Images from the scene showed bikes mangled and strewn along the path in the area where the truck hit between Houston and Chambers street. Videos showed at least one dead body on the ground, and a heavy presence of first responders in the area.
• Argentina's Ministry of Foreign Affairs said on Twitter that Argentine citizens were killed, but did not disclose how many had died. A Belgian national also was a victim of the attack, Didier Reynders, Deputy Prime Minister and Foreign Affairs Minister for Belgium, said on Twitter.
• New York Gov. Andrew Cuomo directed One World Trade Center to be lit in red, white and blue in honor of freedom and democracy, his office said.