JERRY BROWN HANGS HEAD IN ABSOLUTE SHAME AS BRUTAL FACT EMERGES ABOUT DEADLY CALIFORNIA FIRES…
This is sad and it gives us no pleasure in reporting it but it must be done. Because the Democrat's policies are dangerous to America and they need to be stopped before they do more damage.
U.S. Immigration and Customs Enforcement (ICE) Acting Director Tom Homan just confirmed America's worst fears and announced that one man arrested in connection with setting a fire in Sonoma County is an illegal alien from Mexico.
Who has been sent home at least twice?
Homan went on and you can almost hear the frustration dripping from his words saying that ICE has issued detainer requests for Jesus Fabian Gonzalez five times in the past year.
5 times?
What is the guy a serial criminal or serial arsonist? Or both?
The last detainer was issued on October 16 and was related to his arrest on suspicion of arson.
Sonoma County and the whole state of California are sanctuary areas and this is what you get. Now it should be noted that authorities have not tied every fire that ravaged the area to this man. There were multiple fires, some caused by natural causes.
But the point is why risk it? When one fire could catch and blaze out of control and cost 40 or so lives and do billions in damage?
Are a couple of votes worth it?
No.
According to Breitbart Homan released a public statement that said,
"Once again, a non-cooperative jurisdiction has left their community vulnerable to dangerous individuals and preventable crimes. ICE lodged a detainer against Jesus Gonzalez with Sonoma County jail officials on October 16, following his arrest on felony charges for maliciously setting fire to a property.
This is especially troubling in light of the massive wildfires already devastating the region. Over the past year, ICE has lodged detainers against Mr. Gonzalez after four separate arrests by Sonoma County on various felony and misdemeanor charges. ICE was never notified of Mr. Gonzalez' various releases. Additionally, Mr. Gonzales has been returned to his home country of Mexico on two separate occasions.
The residents of Sonoma County, and the state of California, deserve better than policies that expose them to avoidable dangers. Non-cooperation policies – now enshrined in California state law – ensure only one thing: criminals who would otherwise be deported will be released and left free to reoffend as they please."
Wow. Good job Moonbeam. Share this everywhere so America can know how dangerous dumb liberal policies can be.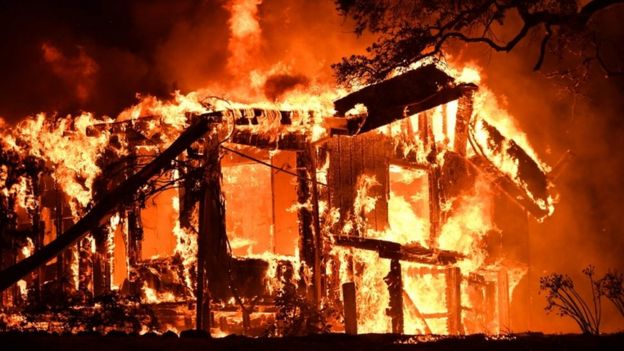 "Our arson arrest involves someone who is known to the deputies," said Giordano. He went on to say the suspect frequents Maxwell Farms Regional Park in Sonoma and "is known to sleep there."
The wildfires now raging in Northern California have claimed at least 41 lives and are responsible for the loss of more than 5,700 structures in several counties, including Sonoma and Napa. The fires wiped out entire neighborhoods in portions of Santa Rosa, the largest city in Sonoma County.
Dozens of people remain missing, and around 200 search and rescue workers were in the field Tuesday conducting searches for more possible victims of the disaster. Authorities also said they are using drones to find hot spots still in scorched areas.
Cal Fire said "repopulations" of evacuated areas remain a "priority." Over the last 24 hours, the state agency said 13,956 homes and 36,225 people were repopulated. "That's a pretty brisk pace and about as fast as we can do it," said a Cal Fire official.
Recent reports have cited PG&E's power lines as a possible cause of some of the current wildfires.
Despite the arson arrest, Cal Fire said it continues to investigate the cause of the various fires in Northern California.
"Cal Fire investigators continue to work on cause and determination," Bret Gouvea, a Cal Fire incident commander, told reporters at a press briefing Tuesday afternoon in Sonoma County. "And they are working closely with local law enforcement on those efforts to find a cause for each one of these fires."
The arson suspect is Jesus Fabian Gonzales, 29, Sgt. Spencer Crum, a spokesman for the Sonoma County Sheriff's Office told CNBC. Crum described him as "a transient out of Sonoma" and said the suspect was "arrested for setting a small fire in a park in Sonoma on Sunday."
Speaking at the Tuesday afternoon press conference, Giordano said the arson suspect was seen "walking away from a small fire" and stopped by deputies. Also, the suspect allegedly had "a fire extinguisher and a lighter with him," said the sheriff.
Giordano said the suspect was asked whether he started the fire and responded that "he started the fire to warm himself up — something to that effect."
In an SEC regulatory filing Friday, PG&E's parent company acknowledged that the causes of the fires are being investigated by Cal Fire, adding that the probe includes "the possible role of power lines and other facilities" of its Pacific Gas & Electric utility subsidiary.
The San Francisco-based utility has about $800 million in liability insurance for potential losses in connection with the wildfires, according to its SEC filing.
"If the amount of insurance is insufficient to cover the utility's liability or if insurance is otherwise unavailable, PG&E Corp's and the utility's financial condition or results of operations could be materially affected," the company's filing stated.
On Tuesday, PG&E shares closed up 7.5 percent. It recouped some of the losses from the past few days following investors getting nervous about its potential liability over the current wildfires.